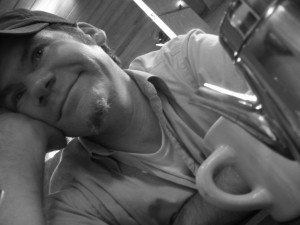 "If you appreciate Carson McCuller's classic debut novel, The Heart is a Lonely Hunter, you must read Thom Vernon's The Drifts. This magnificent first novel by this U.S.-born, Toronto-based actor-turned-writer offers up jaded Southern Gothic characters… these lonely and flawed characters are perfectly dissatisfied and deliciously delusional…
Vernon captures the despair and isolation of 'a body craving change and a voice that can't' with clarity, dexterity and sensitivity.
Vernon has a masterful ability to develop and shape authentic characters trapped by identity, betrayal, geography and love." — Globe and Mail
"What Toronto author Thom Vernon doesn't reveal upfront he unfurls in an entrancing display …. At its core, The Drifts is about longing, longing for love, for release, for freedom, for a second chance to make right what one erred at the first time around….
The setting may be rural, the dialogue twangy with notes of small-town South, but the themes are contemporary. It's a study of the politics of gender, sex and power the author handles deftly, and with grace and compassion…
Not just a character novel, a taut suspense propels The Drifts. Weather is a harbinger here, the raging snowstorm, the "sullen ocean of Arkansas night … the fomenting sky exploding down upon us" an ominous portent of what is in store for the story's central quartet…." –— New Brunswick Telegraph-Journal
"Thom Vernon uses his high energy and sincerity to create male characters who range from wide-eyed sexual neophyte to veteran of the war between the sexes." – Chicago Reader
"…Thom Vernon…does a superb job of suggesting the turbulent, awkward emotions in these cold, distant speeches." – Chicago Sun Times
"I would drive 50 miles out of my way to see…the comical and likable Vernon…." – New City, Chicago
"Thom Vernon, who plays the father, is also convincing in his peripheral role of a man who is both cold and almost magically charming.  Vernon's at once fanciful and abruptly violent moves let the audience see-rather than merely be told about-the complex nature of the character." – Chicago Reader
"A stunning highlight is Thom Vernon's grotesque industrialist, in his oversize suit of gilt, dancing and rolling his tongue in an amazing amalgamation of Laurence Olivier as Archie Rice and Othello rolled together." – Plays International, UK
"…free-and-easy Terence (Thom Vernon)…makes the romantic entanglement so urgent and so believable…Vernon is sympathetically likable as the cavalier Terence." – The Hollywood Reporter
"..none of Chekov's subtle is lost…Thom Vernon really seems at home in these stories from old Russia, mixing naturalistic and non-naturalistic styles…." – New City, Chicago
"…the marriage of vaudeville 'Frank & Mary and Mr & Mrz Burnett'…sketch and song that feels like an evening's entertainment at a subversive summer camp or an episode of 'The Dick Van Dyke Show' as written by Edward Gorey….The author of these surrealist skits, Thom Vernon…elastically alive, like a silent film comic…" – LA Times