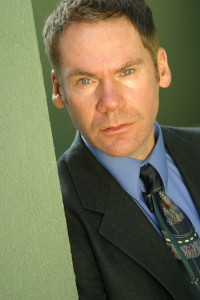 PROFILE
Since 1989, a professional actor, director, teacher and writer. Recent highlights include the scholarly chapters  The Angel at Our Table: Brooding, Benjamin and the Art of Melancholy and Selling It: Creative Writing, Neo-liberalism and the Public Good; the literary novel (The Drifts) and presenting on 'Angel' at the Double Dialogues International Interdisciplinary  Conference at the University of Toronto. Almost twenty years arts education and administration most notably at Lorraine Kimsa Theatre for Young People (Director of Education & Participation), Arts Expand (Facilitator & Administrative Director) and the Actor's Gang (Director of Education & Facilitator, Los Angeles). He is at work on his second novel and researching a future novel about the years of exile & displacement in the life of Walter Benjamin and contemporary queer people.
EXPERTISE
Creative & Critical Writing, Arts education (writing & theatre creation), programming, fundraising and community-building. In particular, facilitating social networks and community-based projects, innovative use of traditional and new theatrical techniques and offering people of all ages the opportunity to discover their unique artistic voice through quality arts programming. Thom is also particularly adept at revenue -generation in the non-profit sector. On-site research and production of fictional and scholarly texts through which new insights emerge. Using prose, drama and persuasive essay forms, able to juxtapose seemingly disparate events, statements and ideas to illuminate previously misunderstood history.
PUBLICATIONS, PRESENTATIONS, AWARDS
The Angel at Our Table: Benjamin, Melancholy and the Art of Brooding (anthology chapter)     Cambridge Scholars Press, UK (2012)
Selling It: Creative Writing, Neo-liberalism and the Public Good (anthology chapter)     Multilingual Matters (2012)
Professional Writing Residency     Vermont Studio Center (2011)
Professional Writing Travel Grant     Canada Council for the Arts (2011)
National/International Arts Residency      Ontario Arts Council (2011)
Writers Reserve Grant      Ontario Arts Council (2010)
The Angel at Our Table (present.)            University of Toronto , 2010
Writer-In-Residence                                    Open Book Toronto, 2010
The Drifts (novel)                                         Coach House Books, 2010
What's the Big Idea? (presentation)         Univ. of Western Ontario, 2009
Calling All Perverts: International Relations and the Study of Sex (article)              Locus Suspectus, 2007
Resurrection (short story)                        In The Family, 2004
Alice Mitchell (screenplay)            Writer's Digest, Austin International Film Festival, 2003-4
Open Door/Paradigm, Movie Bytes, 2003
Julie (novella)                                                Chesterfield/Paramount, 2002
Univ. Western Ontario                                Graduate Phil. Scholarship, 2003
Missing Correlations (presentation)        Q Grad, UCLA, 2002
Prof. Writing Dept.                                     Scholarships, USC, 2001-2
Summa cum laude Philosophy, CSULA , 2000
Kodak Award                                             Outstanding Achievement/Phil., 2000
Other Honours
The Golden Key National HS, 1999-2000
CSULA Student Award                         Scholarship, 1999
SAG John Dales Mem. Award            Scholarship, 1999; 2001
CSULA, Philosophy                             Dean's List, 1998-2000
The National Dean's List, 1998-2000
Puffin Foundation Award, 1998
SELECTED PROFESSIONAL EXPERIENCE*
University of Toronto, School of Continuing Studies, 2011
Creative Writing Instructor
Lorraine Kimsa Theatre for Young People, 2007-10
Director of Education & Participation: Design, Leadership & Management of all education and outreach activities, including curriculum & difference.  Development/Design/Leadership of numerous workshops for teachers & students including the use/practice of writing & theatre, generating class discussion, innovative assessment and the integration of difference (gender, developmental, social). Designed & Developed $500K department & its systems, project, workshop & event design, implementation & assessment, team hiring, study guides, marketing and curriculum leadership.  Highlights: increased skill & interest-based volunteer membership from 8 to 130 in two years (3600 hours) a value add-on of approx. $43K; developed original, revenue-earning programmes. Revenue surpassing expenses by 20-150% overall and per programme; repeatedly brought department in under-budget, developed and designed professional development series for teachers, arts instructors and community-based artists; inaugurated assessment and evaluation systems for programmes.  Stakeholder consultations and participation. Won several grants for programmes and internships.
Independent Theatre/Writing Workshops, 1995-2009
Instructor/Teacher: creative writing, Viewpoints training for professional artists
Los Angeles Unified School District, 2003-2005
ESL Instructor: Literacy, Beginning, Intermediate, & multi-level includes reading, writing, speaking, listening, critical thinking, decision-making, problem-solving, mathematics, resource management (time, money, materials, equipment, people, knowledge, skills); information evaluation, organization, identification, acquisition, creation, maintenance, classification, interpretation, communication including basic computer use; interpersonal skills (cooperative working, listening and responding, accountability, providing feedback, serving clients, leadership skills, negotiation, cultural diversity); understanding, improving, and designing systems, technology (selection, application, maintenance, trouble-shooting) and personal qualities (responsibility, self-esteem, social, self-management, integrity, and honesty).
University of Southern California, Writing Program, 2001-2003
Assistant Lecturer: composition, argument, rhetorics, heuristics, and grammar.
California State University, LA, 2000
Creative Writing Guest instructor.
Programme Director, Facilitator, Advisor: Participant-led workshops: coping & expressive strategies for under-served teens confronting self-image, sexual intimacy, eating disorders, homophobia, racism, & the lack of recognition. Programme & session design, recruitment, staff management, volunteer coordination, & consultation.  Programme sponsored in-part by U.S. NEA.
Arts Expand (Co-founder), 1994-2001
Managing Director & Facilitator: Writing & Theatre Workshops for under-served & "at-greater-risk" people: gang members, pregnant teens, incarcerated youth, street involved youth, queer youth, sex workers.
Feature Films: (actor) Shadow of the Pepper Tree, The Fugitive, The Big Blind; TV: Saving Hope, Murdoch Mysteries, 11/22/63, Mayday, Seinfeld, Grace Under Fire, The Jeff Foxworthy Show, Cobra, General Hospital, etc. (actor); Theatre: American Voices, American Wives, A Circle of People: 3 by Chekhov, etc. (actor) Frank & Mary and Mr. & Mrs. Burnett (writer/actor); Alice Mitchell, SK; (screenplays) The Drifts, Resurrection, Wright Ball, The Loves of The Dead (fiction) Missing Correlations, International Relations and the Origins of Sexology (scholarly) (writer); Gathered In The Light: Canadian Short Stories On Stage, The Wrestling Season, Garuda, Flesh: A Body of Work, etc. (director)
EDUCATION
Master of Professional Writing (USC) Graduate Cert. Gender Studies (USC) Philosophy (Summa cum laude), B.A., (CSULA)
AFFILIATIONS
Screen Actor's Guild/SAG, AFTRA, AAE, Golden Key, USC Lambda Alumni, TESOL Ontario (CANADA), PAONE (Performing Arts Organizations Network for Education), Canadian HIV/AIDS Legal Network
VOLUNTEER
Inside/Out Film Festival, Liaison of Independent Filmmakers of Toronto, CDN Gay & Lesbian Archives, Toronto Intergenerational Partnerships (Advisory Board), Community One Foundation, The 519 Community Centre, The Parenting Network at The Sherbourne Health Centre
PROFESSIONAL REFERENCES
available upon request