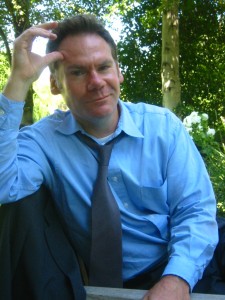 As a student at Everett High School, Thom Vernon remembers sharing a short story in class.
"The kids in the class were like, 'You have got to be a writer,' but I never thought that …" Vernon said. "I did it secretly but didn't really aspire to that.
"I didn't know more than anyone else about writing."
It wasn't until Vernon moved to Los Angeles to pursue an acting career – appearing in the blockbuster movie "The Fugitive" and having roles in TV shows like Seinfeld and General Hospital – that he became so "bored out of my mind, that I started writing."
And that writing has culminated into "The Drifts," his first novel, for which he's in the midst of a book tour that will make a stop in Lansing this week.
"The Drifts" is about many things: An unhappy pregnant mother, a man in love with a cow, a woman who looks like a refrigerator and a transsexual, set in rural America in the middle of a blizzard.
It's a story about internal displacement, about characters "fighting as hard as they can to get what they want."
It's something Vernon, who also attended MSU, knows all too well.
He and his partner struggled for years to find a place to all home, and equally as important, a place that accepts their relationship – which they found in Toronto, where they now reside.
Vernon, who spoke to the State Journal from Toronto last week, said the character of Julie came to him during a writing workshop with his mentor, Hubert "Cubby" Selby Jr., author of "Requiem for a Dream."
It was only a matter of Vernon continuing to the pursue that character and create her life.
He spent about a year writing a novella around 2000-01 with this character, and then "put it in the drawer after getting as far as I could go." Then in April 2009, after scouting some publishers, he pulled out the manuscript, polished it, sent it, and by August he got the green light.
Along the way on his tour, Vernon said he's received positive and emotional responses from people, especially after his readings.
He is continuing to write and has a few projects in the works, including literary novels and helping a homicide detective write his memoir.
But for now, he's back in his hometown to promote his book. Vernon will hold a book reading and signing at 7 p.m. Thursday at Schuler Books & Music in Lansing.