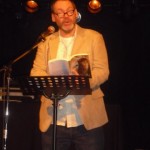 Thom Vernon Book Reading

Sunday, 30 May 2010
Written by J.W. Arnold
Immigration a Matter of Life and Love for Author

They say art imitates life, but the lines are definitely blurred when it comes to Thom Vernon. The Arkansas native boasts a long list of TV credits as an actor on hit shows such as General Hospital, Seinfeld, and The Fugitive. And just a few years ago, he and his Zimbabwean-born partner left the United States for self-imposed "exile" in Canada after his partner was denied residency.All of these experiences have influenced his new novel, The Drifts.
Vernon's novel follows an unhappily expectant mom, a man in love with a cow, a woman built like a refrigerator, and a trans- sexual father, as they navigate life in small- town Arkansas in the middle of a blizzard.
Though not autobiographical, he sees his own experiences through his characters:"In terms of their lives, the main four people are experiencing internal exile, trying to find their way 'home' to a life for themselves. It's no different from anyone else, and also the life that we imagine for ourselves and our families," he says.
Vernon will be reading from his new book at Books & Books in Coral Gables on Tuesday, June 1 at 8 p.m. In addition to the reading,Vernon will be discussing the immigration challenges faced by same-sex couples with an international partner.
"My family was heartbroken and so were we when we had to leave the country just to be together," he explains."If I had a dollar for every time I've heard,'Why don't you just go to Massachusetts?' They just don't under- stand. It's important that I try to help others who are in the same predicament."
Thom Vernon Reading from The Drifts Tuesday, June 1, 8 p.m. Books & Books
265 Aragon Ave., Coral Gables