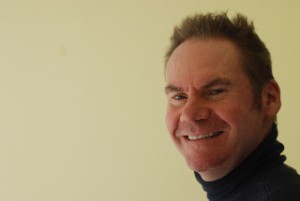 Coach House Countdown: Thom Vernon
By Erin Balser
Published: April 26, 2010
Coach House Countdown: Thom Vernon
Jen Currin, kevin mcpherson eckhoff, Alan Reed, Thom Vernon, and Rachel Zolf will all be reading from their latest works at the Coach House Spring 2010 launch on Wednesday. To mark the occasion Books@Torontoist made these authors fill out a brief questionnaire. We'll print one a day until it's party time.
Today's installment of the Coach House Countdown is from Toronto-based author Thom Vernon, whose novel The Drifts explores how the lives of four residents of a small northeastern Arkansas town are impacted by a huge blizzard.
What's your book about and what makes it unique?
The Drifts is about four people fighting like hell to get what they want. In life, each of us have had to carve out a life, an identity, that matches our vision. That's what these people are doing over three hours, during a blizzard, in rural, northeastern Arkansas. The book is unique in content, point of view, literary style, and location. The four people are a pregnant, middle-aged housewife who doesn't want to raise another kid, her husband who is giving his affections to a cow, a factory worker who's never known love, and a trans-person who is the father of two kids and has lost his health insurance. The book has a unique point of view in that it shines a light in a sometimes violent, but hopefully always poignant, way on southern life well outside our common view of Arkansians. I have used a particular literary style in order to engage the reader fully. While the plot gathers momentum, each section of the book is told from a particular character's point of view in either the first, second, or third person. This puts the reader smack dab in the center of a character's p.o.v. Second, I have used–and not used–punctuation specifically to capture the emotional state of a character in a particular moment: panic, sadness, confusion, rage, joy, transcendence, and so on. Lastly, as John Custodio said last night on CKUT, we don't hear stories about Arkansas very often. And certainly not stories that bring to life real people vs. white-washed (pun?) stereotypes. But I think there are a lot of people out there like the people in The Drifts, they just don't get a lot of airtime.
Which fictional literary character is your favourite?
Ever? Oh, boy. Probably the narrator in Proust's In Search of Lost Time (nee Remembrance of Things Past); he seems like such a myopically obsessed asshole. The Misfit in Flannery O'Connor's A Good Man Is Hard to Find; so violent, so funny. Most recently, my fave is Bilal in Rawi Hage's DeNiro's Game. I have a crush on Bilal.
Who are some of your greatest writing influences?
Hubert Selby, Jr. (style), Proust, Genet, Vidal, Munro, Paley, and O'Connor (content & sensibility). I'm probably forgetting someone. These writers should not be held responsible for the weaknesses of my work.
What advice would you give to aspiring writers?
Write. Sit your butt in the chair and write. There's no other way. Even if all that comes is one word. That's one you didn't have before. If you don't have to write, then don't. It's too hard, costs too much money, and sucks too much blood. If you have to do it, it will feed and take care of you somehow. Submit, submit, submit. To the pen, to the characters, to the mailbox. Stay out of your fiction; it's not about you.
What's your favourite bookish spot?
Oh, I love this question! In Toronto, Tango Palace on Queen East is comfy, quiet; it has lots of wood which is soothing. Fab staff. Lettieri on Front Street; cool, antiseptic environment. Good for editing, sometimes composing; they leave me alone there even tho' I only buy one little thing. No one else bothers me there either; I can tuck back behind one of their big poles. In Kensington, The Moonbean Café–noisy loud, very scruffy (people and décor), surly counter staff–all of that somehow helps me to focus. On one of my trips to see my partner (he was in TO, I was in LA, boo-hoo), Moonbean played a Joan Armatrading which I began weeping over the second I heard it and said to Vajdon, this is our wedding song! "You are the apple of my eye…."
What do you love about Toronto?
Number one, the safety it has given us. Second, the arts and culture scene, especially Coach House! Thank god there is a CH, House of Anansi, and so on. Somebody is always breaking another envelope here, especially in literature and theatre. Number three, the lakefront and the Don Valley. The trails, not the Parkway. Four, the TTC. I know, I know, but try living somewhere where there isn't public transport at all. I get jeered for this, but I am grateful every time I climb onto a streetcar (even if it's the fifth one in a row after waiting for 25 minutes!) or step into a subway car. There are too few places w/ decent public transport. I came from L.A.–end of story. Fifth, I have come to enjoy the smiling or blank-faced expressions on Torontonian faces. I'm a little more animated than what I think most TO-ers are used to. But, knock wood, nobody's slugged me yet. Professionally, of course, I've been able to keep busy and contribute. I love that a lot.
Keep Toronto Reading is all about spreading literary love in this city. What book would you recommend to Torontonians?
DeNiro's Game and Cockroach (Rawi Hage), Troubled (R.M. Vaughan), and Girls Fall Down (Maggie Helwig). Currently reading Lemon (Cordelia Strube). Recently loved Lit (Mary Karr), Flannery O'Connor: a biography (Brad Gooch), and Every Man Dies Alone (Hans Fallada).

Why should people come to the Coach House launch?
Oh, look there's nothing better than to have met an author or heard them read when you sit down with their book. Plus, there is nothing like being in the same room with a bunch of literature lovers–loving the fact that people write and people read. Authors love to scribble things on your books. That's always good. And drinks. Moo.
Coach House Books' Spring 2010 launch will take place at Revival (783 College Street) on Wednesday, April 28th. Doors open at 8 p.m.